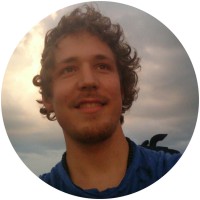 Hi friends out there,
my name is Arya and I am a 26 year old Yoga teacher, Meditation facilitator, Tantra practitioner and Nurse, based currently in Germany.  Nowadays I mostly work at the Yogahaus Würzburg. When I finished highschool in 2010 I went on an extensive 3 year journey, seeking something.
However I could´t name it at that time, because just simply I didn´t have a clue myself. For about one year I lived in Buenos Aires, working there with street kids within an NGO called Don Bosco. Not necessary to mention that the time spent changed a lot. More any how got stirred during a month of vacation in Patagonia. I took my leave to Ushuaia, one of the cities at the furthest south of the world. Fun Fact: It is so close to the south pole that even in Summer the weather is very cold and harsh.
Nights spent in a very simple tent eventually turned out to be freezing.
I went hitch hiking from nationalpark to nationalpark and thereby covered more than 3700 miles, while only having to take a bus once.
Living in this extreme way, each new day ignorant of where I would sleep that night or if someone would pick me up and take me a little further, I felt intense fear sneaking up on me. Surprisingly everything worked out so well that I established a great trust in life, resulting in a feeling that I wouldn´t have to worry so much about anything.  Besides that I felt very much connected to something I could not put my fingers on yet.
If you wanted you could call that a first introduction to spirituality, but that sounds quite too cheesy for my taste. I´d rather leave it as a profound state of relaxation.
When I came back to Buenos Aires a transformation had started. As I wanted this feeling to be established constantly in my life, I became a seeker. Therefore, while looking out for something that might bring such inner peace about, I read about meditation.
Alas, it got me hooked instantaneously. I found a meditation center and had my first guided version of this far eastern practise. It left me filled with awe and bliss. In fact I was so blissed out, that on my way back home I got pick pocketed in the bus. Now I really have to smile about the picture. This tall white Gringo in a Bus stacked with Argentinians, head over in the clouds – What an easy Target  🙂
Luckily that was the only ill effect meditation had on me, all other results turned out to be marvelous. Thus very much inspired, I gave up the idea of going back home for studies and went to India instead. In this country of great sages and abominate poverty, I studied with different masters and dived furthet into meditation. It didn´t take me long until Yoga crossed my path, or maybe rather until I stumbled upon it. For about one year I studied the ancient techniques of the Yogis that lead me into profound states of meditation. Thanks to a lot of grace, I received the teachings of Agama Yoga in Thailand founded by the great Swami Vivekananda Saraswati. I became a vigorous, enthusiastic Yoga practitioner.
With only 21 years of age I was given the ancient wisdom of the Tantrics. Thus I learned about spiritual relationships, how to reclaim manhood and most importantly live my life´s true purpose.
I am overwhelmingly grateful for that.
These teachings have impowered me and many other men to man up and claim their inheritance so to speak.
Still I do return almost every year to the school to receive the teachings of Swami. Coming back home after more than three years of travelling the world I encountered was quite a shock. Noone seemed to have a sincere interest in what most people call spiritual. It seemed so much more appealing to everyone to get lost in materialism, akohol, sexual pleausures, work or better said slavery… you name it.
Very few appeared to live from love and not out of fear.
It took me more than a year until I got ok with circumstances again.
Luckily I found a beautiful Yoga center in the town I am currently living at and started teaching there after a profound Hatha Yoga TTC.
Meanwhile I encountered the practises of Zen meditation, Zazen, which is the Japanese buddhist meditation. Luckily there is a center close by our town and every now and then I am able to go there for a retreat and commit to days of meditation.
The plain approach of simply witnessing and accepting the present moment without any resistance, fascinated me a lot. I learned to see myself clearer, the light and the dark. Moreover I gradualy learned to accept it and be more frequently in the now than before. Needless to say, that there is still a journey to be covered.
To come to an end with this story:
Two years ago being in Thailand again I got aquainted with Ashtanga Yoga, a very physical flowing form of Yoga. I fell in love with this intense physical practise, which stresses the union of breath, movement and bandhas (locks you keep by pulling in different muscles).
I went back to india in 2016 and absolved a Teacher Training Course in Ashtanga Yoga. Since then I have been teaching not only Hatha and Meditation but Ashtanga as well. Maybe these words struck something within you.
Please feel free to ask any questions coming up.
May all beings be happy, experience joy and Peace, Lokah samastah sukhino bhavantu.